Welcome to the Karotz TimeButton software.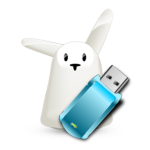 Your Karotz needs to run on Open Karotz for this software to work. This software is complementary and an addition, only the button of your Karotz is changed. After installation, you can still use the Open Karotz functionality. So don't reset your Karotz when you start to install this software!
If you want to reset your Karotz and have a trouble free installation, and if you want to start clean and have the latest OS, take a look at Free Rabbits OS.
Note that if you schedule an App, we will send a new CRON file to your Karotz, so your current CRON file will be overwritten.
Installation instructions
Unzip the ZIP file and place all the files on a USB key, formatted as FAT32.
Turn off your Karotz.
Plug the USB key into your Karotz.
Turn on your Karotz.
The LED will turn red.
You'll hear spoken instructions and music.
After this, your Karotz will boot normally and the LED will turn green.
You can now unplug your USB key.
Press the button on your Karotz.
You'll hear the 'Start signal', the 'Clock signal' and the 'End signal'.
You are ready to explore our Apps! Go back and try some Apps!